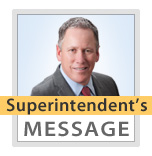 November 18, 2016
Dear Parents, Guardians and Community Members,
This week, in a letter to staff and colleagues, I acknowledged that last week's election remains at the front of our minds and that the current state of discourse is challenging. And, it was important that I shared how my mood and outlook has been uplifted in seeing that our school sites are busy with teaching, learning and activities of all kinds. Fall sports playoffs have started, theatrical productions are underway and plans for winter musical and choral performances are in place. Grades will be due soon and winter sports are about to kick-off.
While this election will have an impact on all of us for years to come—educators help remove barriers, keep kids safe and provide hope. Be assured that Elk Grove Unified School District's commitment to safe schools means that we foster and model respect—and none of us should expect less. As educators and leaders in our communities, we are responsible for providing an environment where students are safe to share their points of view so long as the expression of such views does not impinge on the rights of others. Already, staff members have successfully helped redirect students to express their feelings in a positive manner to ensure that teaching and learning continue without disruption.
Looking to our future, California voters supported several state and local appropriation initiatives. Proposition 51, Proposition 55, and locally, Elk Grove Unified's Measure M, passed! Those three measures support the work that lays ahead and their passing demonstrates that our communities locally and across the state care about investing in our children's futures and in education. The confidence our parents and communities have in us is something we all take pride in. Thanks goes to all for the groundswell of support for our schools and in particular to the many parents who helped us with a successful grassroots community outreach effort.
While the winter months can be a time of cheer for many, please keep in mind that the holiday season can also bring a great deal of stress. College applications are due, family dynamics often prove challenging and financial stressors occur. Please check in with your child(ren) to make sure they are handling everything that is on their plates. Please contact your school if you think your child(ren) needs additional support. We have highly trained staff available to provide support.
The end of the first semester will be here in a blink of an eye and it is important to stay informed regarding the academic progress of your child(ren). Frequent communication between school and home reduces the chance of surprises showing up on a report card. Being in contact with staff will help make sure everyone stays on the same page in supporting the success of our kids. As the season of cheer and giving nears, I've also asked our teams to keep an eye and ear out for students and families that may need some extra support at this time of the year. If you are aware of any such situations, please let us know.
As always, I am grateful to live and work in such a wonderful community.
Sincerely,
Christopher R. Hoffman
Superintendent
---
Download Superintendent's Message
English  |  Hmong  |  Spanish  |  Vietnamese