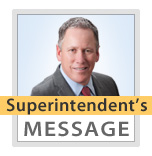 February 7, 2017
Dear Elk Grove Unified Parents and Guardians,
The New Year began with a flurry of positive events in Elk Grove Unified. Our Transitional Kindergarten and Kindergarten registration brought in hundreds of new students and this year's well-attended Explore: Map Your Future event inspired droves of elementary and middle school students and their families to think about future career and/or college aspirations. Last week, out of thousands of student athletes, twenty signed their letters of intent during the NCAA National Letter of Intent Signing Day to attend Division I and Division II universities. This past weekend, six high school academic teams went head to head with regional schools at the 37th Annual Sacramento County Academic Decathlon. Also in January, our Board of Trustees approved an additional $253,000 in funding for visual and performing arts, which helps continue and sustain the many programs that provide our students with opportunities to perform and produce mainstage pieces, theatre performances, concerts and art shows.
The start of the year is also when we kick-off our planning for the next school year. Thanks to your support on Measure M, we posted a call for applicants to the Measure M Citizens' Oversight Committee late last week and look forward to building the team who will report on and oversee our modernization and maintenance program at our existing 65 schools. February is also our time for attracting the best and brightest due to anticipated attrition and the addition of two new elementary schools. We are looking locally and reaching out to other communities, like the Bay Area, and I ask for your help to promote our upcoming recruitment fair with friends, family and contacts in the Bay Area or locally. Please share the following event: Connect with Us Recruitment Fair in Redwood City on February 25, 2017.
Between February and March, we will be closely monitoring developments at both the state and federal levels as budget and program decisions may directly impact us. The Governor shared his preliminary 2017-18 budget in January and based on the fact that state revenues are not meeting expectations, funding to schools is projected to be less than anticipated. We are currently working together with the Board of Trustees and our local associations to put plans in place that will allow us to effectively address any challenges that come our way to ensure we remain fiscally responsible and competitive. At the federal level, Congress just approved the appointment of Betsy DeVos as the new Secretary of Education and coupled with the passing of the Every Child Succeeds Act last fall, we await the implementation of any new policies and regulations. As we monitor these changes along with any executive orders that may directly affect our students and families, we will make sure our staff and families have access to helpful resources. Until we have more clarity on the implementation of federal regulations, there will be a level of uncertainty.
What is certain is that Elk Grove Unified, embraces diversity, and we are committed to providing a safe and inviting campus to all of our students and their families. Anxiety and misunderstandings regarding immigration and undocumented students make it important for us as educators to inform our families and offer resources to ease concern as families look to us to provide both high quality education and a wide range of other student welfare services. To that end, we have gathered information from our legal partners and the California Department of Education about a child's right to a free public education and a child's right to privacy under the Family Educational Rights and Privacy Act and have made it available on our District's website at the following link: Immigration Protection Questions & Answers.
The last issue I'd like to address is bullying. This important topic is always on our radar, particularly in March, when schools come together to plan districtwide and campus events to discuss a number of school climate-related issues like bullying. However, the concern about bullying showed up more prominently at a recent meeting of the Board of Trustees. Bullying, whether physical or psychological, if left unresolved, can lead to serious and unhealthy consequences, jeopardizing every gain we've made in a child's learning. As educators, it is paramount that we ensure that all students are learning, growing and thriving in safe environments free of intimidation regardless if it's in the form of verbal name-calling or threats, physical hitting or psychological rumors or exclusion. We may not be able to eradicate bullying, but we can help provide the services and resources our students and families need to address it when it happens, and do all we can to prevent it in the first place.
For parents and stakeholders interested in playing a bigger role in the prevention of bullying, the District has a Wellness Advisory Committee (WAC), formed to represent the school and community. The WAC includes District administrators, health professionals, school nurses, health educators, physical education teachers, counselors, and others interested in school health issues. As part of our Wellness policy, this committee oversees a number of components including these four that address bullying: Mental Health and Social Services, Healthy and Safe School Environment, Health Promotion for Staff and Family and Community Involvement. With the common goal of maintaining a positive and safe school environment, our Youth Development programs provide Bullying Prevention programs for students and our Positive Behavior Interventions and Supports (PBIS) team offers training and services for schools as well as resources for parents. These resources can be found on our District's website under Students & Families/Wellness.
In closing, it is important to remember that as the fifth largest school district in California, we educate the citizens of the sixth most powerful economy in the world. To keep that economy and its citizens headed in the right direction, we need to continue doing what we do best –educating every student, in every classroom, in every subject, every day to prepare them to be college and career ready upon graduation. Speaking of graduation, it is hard to believe promotions and graduations are right around the corner. With these wonderful events often comes stress and anxiety. Please pay attention to these family stresses and know that we have resources and people at every school who can help you or put you in contact with someone who can address your needs.
Sincerely,
Christopher R. Hoffman
Superintendent
---
Hmong  |  Spanish  |  Vietnamese